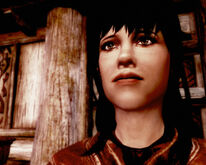 Aethra the Younger is a Tribal and daughter of
Braig
. She is found in
Cidhna Mine during
"Silver Bleeding".
Briography
Edit
Early Life
Edit
Aethra was born to Braig and an unamed woman murdered by the empire. She was studied medicine in her earlier youth.
Imprisonment
Edit
Her entire tribe, the Wonosocaks, was wiped out. She and her father were the only survivors.
She escaped with the Dovahkiin and went back to the Dovahkiin Tribe with the rest of the survivors of the escape.
Gender: Female
Race: Breton
Afilliation: Wonosocaks, Cidhna Mine Prisoner, Dovahkiin Tribe
Faith: New gods
Recruitable?: Yes

Escape from Cidhna Mine with her.
Possible positions: Alchemist, Veteranary Alchemist, Healer

Related Quests: Silver Bleeding, A Knife in the Dark, A Little Friend